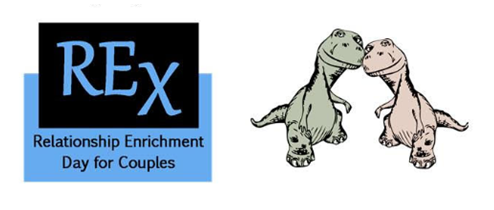 Every relationship has ups and downs
Every couple is different! So if you are over 18 and call yourselves a couple, you are welcome at REx.
Every relationship can use some time
REx is about putting aside some time to talk as a couple about your relationship with down to earth suggestions for what to talk about.
Every relationship can use some support
REx is an opportunity to mix with other couples who want to grow in their relationships. You will not be asked to share with other couples, but you will meet encouraging
friends! In which case, please be accepting and encouraging of everyone else at REx.
Matt & Cheryl Waldron will be hosting the day and facilitating the Core program.
Matt and Cheryl stayed up late making sandcastles on the beach the day they met. They now have
three children aged 9 to 3, and have just celebrated their 20th wedding anniversary.
Matt is a Minister with Three Crosses having previously worked as an Addictions Counsellor and Program Manager. Cheryl is a Youth Worker currently Home-making full-time. Matt and Cheryl are regularly involved in supporting couples in their relationships, but especially enjoy mentoring couples preparing for marriage.
This November 2017 edition of ReX will be presented by Three Crosses and Perth Alliance Church. We will be working through Core Strand 3: Fun & Friendship
Where and When
9am-3pm
Saturday 4th November, 2017
at The Platform
3/256 Adelaide Terrace, Perth
Cost
The cost is $70 per couple, to be paid in cash on the day or via direct debit to Three Crosses Inc, BSB: 036084 Acc:286695. Please use "<Your last name> Rex" as the transfer description.
And don't forget to bring money (or a picnic) for your lunch date!